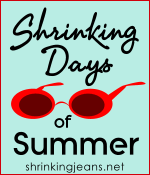 Today was the first weigh in for the newest challenge over at the Sisterhood. And I have to say I have done mighty well this week.... today's weight was 254.8 lbs which is a loss of 4.8 pounds... I'm good with that.
These next two weeks are going to get interesting as I am heading to New York City Sunday morning with my aunt and cousins and let's just say that I know its going to be hard considering that a visit
HERE
is on tap and several other amazing NYC places to eat. I am hoping that my lack of funds for the trip will limit the horrible eating.
Good luck to everyone!