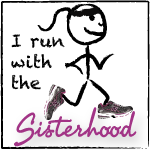 At the Sisterhood of Shrinking Jeans that is.... :) You see the girls over at the Sisterhood will be tying up the laces tight on June 6th and running the San Diego Rock N Roll 1/2 Marathon. This marathon is run with the Leukemia & Lymphoma Society's Team in Training Group. The gals (and guys) over at the sisterhood want to celebrate their last month of training and have asked for us to help spread the word not only on running for a better life but also for their cause.
If you are interested in donating to the amazing cause of the Leukemia & Lymphoma Society please do so by visiting my dear friend
Melissa's site
and donate to an amazing cause that is near and dear to my heart as well... because as of April 2010 I have been leukemia free for 14 years....