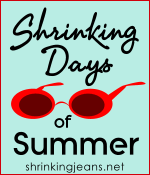 Today is the first day of the newest challenge at the Sisterhood of the Shrinking Jeans. This new challenge will run from today Wednesday, May 26th until July 21, 2010. This will take us through a few of those 'bad' summer eating weekend to include Memorial Day and also the Fourth of July. Here are some of the details that I
stole from the author of the latest post at Shrinking Jeans
borrowed from the Sisterhood. I certainly hope that they don't mind....
OK, here are the deets for the new challenge:
8 weeks long (Starting today May 26, Ending July 21st)
Mini challenges every week, running Sunday-Saturday (basically we will give you a task, whether fitness-related, health-related, mental well-being or whatever and each of us will focus on that task for the week)
Be on the lookout for a new *Family* challenge that we will be starting in conjunction with our friends over at Weight Watchers. It will be fantastically awesome and something that you can do with your children!
We've created a group over at the 'Hood specifically for this challenge. If you are already a member of the 'Hood, then head on over there and RSVP for some extra support. If you aren't a member yet, then click here to become a member and then join our new Shrinking Days of Summer group. I'm here to tell you that the 'Hood is awesome and a great tool to receive and give extra support for your journey.

Weigh in every Wednesday (including today). Let us know how you did- how much did you lose/gain, what struggles did you have, what were the positives of the week. Blog about it and post the link in the comments. You will do this every week : ).
This Sisterhood also has a fun new posting schedule for their blog as well. if you want to check it out then go ahead and visit THIS POST RIGHT HERE rather than me snaking even more of their post for the day.
So today I start my challenge weighing 259.6lbs... this is right where I was a year ago... :( I need to stop this... Here goes!!!